| | |
| --- | --- |
| | Reid Carruthers wins StuSells Toronto Tankard |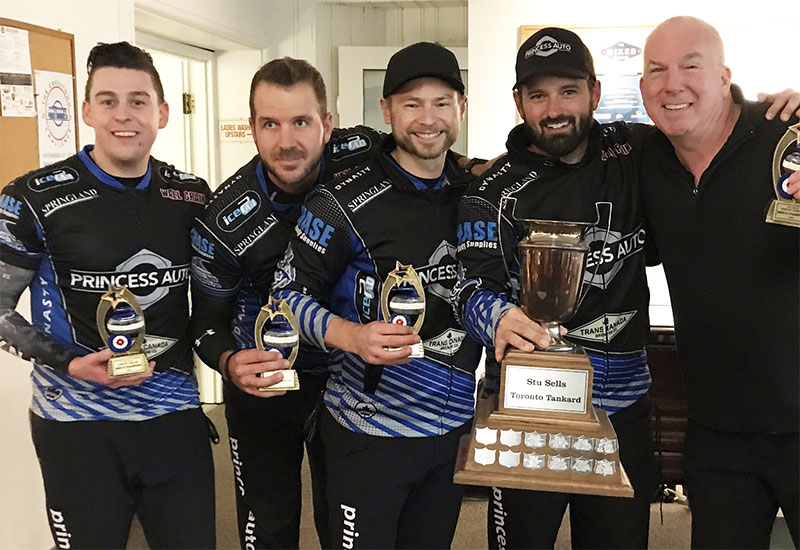 Reid Carruthers (Winnipeg, Manitoba) wins the StuSells Toronto Tankard, defeating Stuart Thompson (Dartmouth, Nova Scota) 7-5 in an extra end at the Royal Canadian Curling Club in Toronto, Canada. Carruthers as skip throwing third stones with Mike McEwen throwing the last stones and Derek Samagalski and Colin Hodgson on the front end take home the $12,000CDN first place cheque along with 54.804 world ranking points, while Thompson receives $8,000CDN and 40.190 world ranking points for their second place finish.

Thompson opened the scoring stealing 1 in the first end, then forced Carruthers to a single in the second end. After a blank end, Thompson scored a single the fourth end to extend lead to 2-1, when Carruthers responded in the fifth end scoring 2. Thompson scored 2 in the sixth end, with Carruthers scoring 2 the seventh end as they exchanged leads through the middle of the game. Thompson scored a single in the eighth end when a measure for the win left Carruthers as second shot sending the game to an extra end where McEwen had an open hit for the win.

In the semifinals, Carruthers defeated Scott McDonald (Kingston, Ontario) 4-3 and Thompson defeated Brendan Bottcher (Edmonton, Alberta) 7-2. McDonald and Bottcher earned $5,000CDN and 31.056 ranking points for their semifinal finishes. In the quarterfinals, Carruthers defeated Jia Liang Zang (Beijing, China) 4-2, Thompson defeated John Epping (Toronto, Ontario) 7-1, while Bottcher defeated Tanner Horgan (Sudbury, Ontario) 8-7 in an extra end and McDonald defeated Michael Fournier (Montreal, Quebec) 7-4. Epping, Horgan, Zang and Fournier earned $3,000CDN along with 21.922 ranking points for their quarterfinal finishes.

Carruthers went 3-0 in the 26 team triple knockout qualifying round. In their opening game, Carruthers defeated Zang 10-4, then won against Kirk Muyres (Saskatoon, SK) 6-3 to advance to the A-Qualifier game where they won 4-3 over Bottcher to reach the playoff round.